Continental Logo (Present)
9000x2000 HD Png
Continental Information
Founded
1871
Headquarters
Hanover, Germany
Official Site
www.continental-corporation.com
Overview

Continental AG, commonly known as Continental, is a leading German automotive manufacturing company specialising in tyres, brake systems, interior electronics, automotive safety, powertrain and chassis components, tachographs, and other parts for the automotive and transportation industries. Continental is based in Hanover, Lower Saxony, Germany. Continental is the world's fourth-largest tyre manufacturer. Continental was founded in 1871 as a rubber manufacturer, Continental-Caoutchouc und Gutta-Percha Compagnie. After acquiring Siemens AG's VDO automotive unit in 2007 Continental was ranked third in global OEM automotive parts sales in 2012 according to a study sponsored by PricewaterhouseCoopers.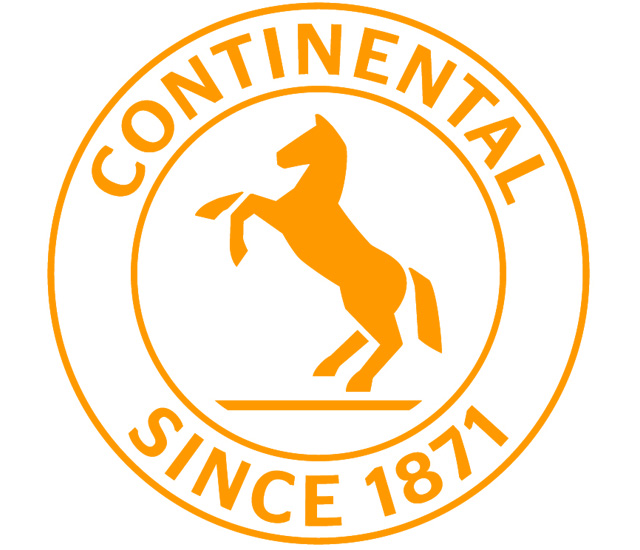 Continental Logo
1920x1080 HD png
Continental sells tyres for automobiles, motorcycles, and bicycles worldwide under the Continental brand. It also produces and commercialises other brands on a regional level, such as General (US/Canada), Gislaved (Canada, Spain, Nordic Markets), Semperit (industrial applications), Euzkadi (Mexico/Latin America) and Barum to serve EU & Russia. Continental's customers include all major automobile, truck and bus producers, such as Volkswagen, Daimler AG, Ford, Volvo, Iveco, Schmitz, Koegel, Freightliner Trucks, BMW, General Motors, Toyota, Honda, Renault, PSA and Porsche.